Data
USNG Data are available, usually in GIS Shapefile format, from the National Geospatial-Intelligence Agency (NGA) and from other providers, such as SharedGeo, that hosts data created by the USNG National Implementation Center (TUNIC) at Delta State University.
Links to data sources are provide below and organized by FEMA regions and USNG grid zones.

Data by FEMA Regions
Click on FEMA region in map or use link in table below to go to data download page.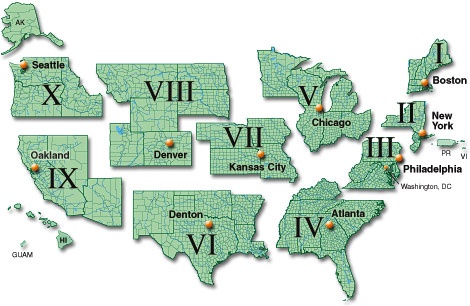 | Region | States Serving | Download Data |
| --- | --- | --- |
| Region I | CT, MA, ME, NH, RI, VT | Data for Region I |
| Region II | NJ, NY, PR, USVI | Data for Region II |
| Region III | DC, DE, MD, PA, VA, WV | Data for Region III |
| Region IV | AL, FL, GA, KY, MS, NC, SC, TN | Data for Region IV |
| Region V | IL, IN, MI, MN, OH, WI | Data for Region V |
| Region VI | AR, LA, NM, OK, TX | Data for Region VI |
| Region VII | IA, KS, MO, NE | Data for Region VII |
| Region VIII | CO, MT, ND, SD, UT, WY | Data for Region VIII |
| Region IX | AZ, CA, HI, NV, GU, AS, CNMI, RMI, FM | Data for Region IX |
| Region X | AK, ID, OR, WA | Data for Region X |
Data by Grid Zone